Studying the Solar System with Spreadsheets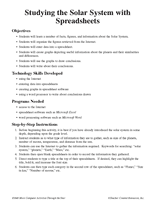 Students use the Internet to research the solar system, graph their data with a spreadsheet program, and type their conclusions in a word processing program. They should have an understanding of the solar system prior to this activity. This activity includes Pluto as a planet, even though it is now classified as a dwarf planet.
Grade Levels: 4 - 8
Excerpted from
More Computer Activities Through The Year
Wendy Erlanger
More Computer Activities Through The Year features step-by-step instructions for projects using common programs for word processing, spreadsheets, multimedia presentations, and the Internet. Activities include creating a template, graphing and analyzing data, making a newsletter, researching topics on the World Wide Web, and more! Projects are easy to modify and align to your specific curriculum.
Buy This Book

Calendar of Daily Teachable Events
Find educational activities for every day of the year that are sure to spark your pupils' interests, creativity, and learning. From historical to artistic to philosophical – we have lessons in our calendar of activities to fit all of your classroom needs.
Freebie Fridays on Twitter & Facebook
Want free stuff? Follow us on Twitter or "Like" us on Facebook, and get a free lesson, worksheet, or activity from TeacherVision every Friday.
Recently Added
We add new content – including your most-requested materials – every week. You'll discover a range of new resources from science projects to literature guides and much more!
Graphic Organisers
Check out the most popular section on TeacherVision – our vast collection of graphic organisers for all subjects and age ranges.
Daily Printables
Add a TeacherVision widget to your blog, personalised homepage (such as iGoogle or Pageflakes), or social networking sites (such as Facebook).
Bulletin Boards
Make your classroom visually appealing and stimulating to your students with these bulletin board ideas and examples. Whether you teach science, reading, or art, you're sure to find the perfect bulletin board to fit your current theme or topic of discussion.