Geometry, Color, and Piet Mondrian
Grade Levels: 2 - 5
Objectives
Students will reproduce the art of Piet Mondrian.
Students will use rulers to create geometrical shapes.
Students will review their understanding of primary colors.
Materials
White paper
Red, yellow and blue paints, markers, or crayons
Black marker
Ruler
Pencil
Paintbrush (optional)
Water (optional)
Containers (optional)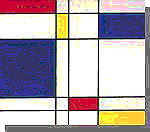 Procedures
Give students background on Piet Mondrian and the painting style he invented. See the following paragraph.

Piet Mondrian was a Dutch painter who was born in 1872. At one time, Mondrian painted realistic landscapes, but as he painted more and more, his style began to change. He started to create abstract images. How did he come to paint this way? The more Mondrian looked at trees, buildings, and vases, the more he saw their basic shapes and colors. You can try this too. Just squint your eyes while you are looking at something and all the details will start to disappear. You will see only shapes and color, no real objects. This is what Mondrian did. Eventually, Mondrian's style consisted of geometric shapes and primary colors. After all, every shape can be created from the basic geometric shapes and every color can be created from the primaries -- red, yellow, and blue.

Students should divide their papers up by drawing four horizontal lines from one end of the paper to the other.
Next, draw three vertical lines and again, make sure the lines go from one end of the paper to the other.
When the lines have been drawn, use a black marker to darken them up.
Make some lines thick and some lines thin.
Students should choose just a few spaces on their papers to fill in with the primary colors -- red, yellow, and blue.
Encourage students to leave some white space.
Have students sign their work and use the art for a wall display.

Calendar of Daily Teachable Events
Find educational activities for every day of the year that are sure to spark your pupils' interests, creativity, and learning. From historical to artistic to philosophical – we have lessons in our calendar of activities to fit all of your classroom needs.
Freebie Fridays on Twitter & Facebook
Want free stuff? Follow us on Twitter or "Like" us on Facebook, and get a free lesson, worksheet, or activity from TeacherVision every Friday.
Recently Added
We add new content – including your most-requested materials – every week. You'll discover a range of new resources from science projects to literature guides and much more!
Graphic Organisers
Check out the most popular section on TeacherVision – our vast collection of graphic organisers for all subjects and age ranges.
Daily Printables
Add a TeacherVision widget to your blog, personalised homepage (such as iGoogle or Pageflakes), or social networking sites (such as Facebook).
Bulletin Boards
Make your classroom visually appealing and stimulating to your students with these bulletin board ideas and examples. Whether you teach science, reading, or art, you're sure to find the perfect bulletin board to fit your current theme or topic of discussion.