Showing Decimals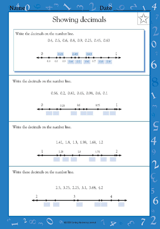 Page Description:
Students demonstrate their understanding of place value by writing the decimals on the number line.
Grade Level: 4
The full page is available ONLY to subscribers. Sign up today for a free 7-day trial to get access to this page and all of the 22,000 items on TeacherVision®.
Excerpted from
Fourth Grade Math Made Easy
These workbooks have been compiled and tested by a team of math experts to increase your child's confidence, enjoyment, and success at school. Fourth Grade Math Made Easy provides practice at all the major topics for Grade 4 with emphasis on multiplication and division of larger numbers. It includes a review of Grade 3 topics and a preview of topics in Grade 5. It also includes Times Tables practice. Learn how the workbook correlates to the Common Core State Standards for mathematics.
Buy This Book

Calendar of Daily Teachable Events
Find educational activities for every day of the year that are sure to spark your pupils' interests, creativity, and learning. From historical to artistic to philosophical – we have lessons in our calendar of activities to fit all of your classroom needs.
Freebie Fridays on Twitter & Facebook
Want free stuff? Follow us on Twitter or "Like" us on Facebook, and get a free lesson, worksheet, or activity from TeacherVision every Friday.
Recently Added
We add new content – including your most-requested materials – every week. You'll discover a range of new resources from science projects to literature guides and much more!
Graphic Organisers
Check out the most popular section on TeacherVision – our vast collection of graphic organisers for all subjects and age ranges.
Daily Printables
Add a TeacherVision widget to your blog, personalised homepage (such as iGoogle or Pageflakes), or social networking sites (such as Facebook).
Bulletin Boards
Make your classroom visually appealing and stimulating to your students with these bulletin board ideas and examples. Whether you teach science, reading, or art, you're sure to find the perfect bulletin board to fit your current theme or topic of discussion.