May 2013 – New Content on TeacherVision®
*Updated May 3, 2013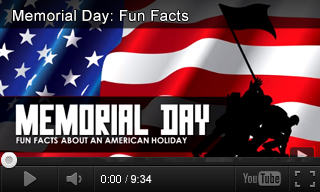 Last month we as a country experienced a tragedy: the terrorist bombings at the Boston Marathon on April 15, 2013. The explosions killed three and injured over 180 people. Explore our resources for talking to your students about tragedies, terrorism, and the resulting crises to your class. Learn about the history of the Boston Marathon, take a tour of the race's legendary course, and talk about the events of the terrorist attack and capture of the suspects, Allow them to express how they feel with printable activities and creative outlets, like poetry writing and arts and crafts.
The country of China also experienced tragedy in April, with a devastating earthquake. This event may have your students wondering why such natural disasters occur, how they may be affected by them, and what they can do to help. Use these resources to teach the history and geography of China, to explain earthquakes, and to discuss the resulting crises with your class.
Lastly, discover the history and traditions of Memorial Day through videos and related activities. The extension activities, literature guides, and lessons explore American wars, such as the Revolutionary War, the Vietnam War, World War I, and World War II.
Best wishes,
The Editors of TeacherVision®